Manners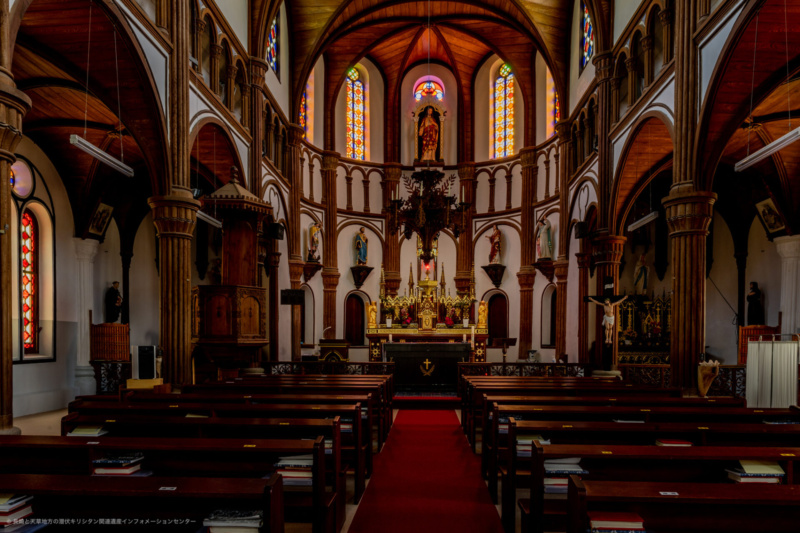 Manners when visiting a church
The church is a "place of prayer" and a "house of God," and its building is not a tourist facility.
When visiting for sightseeing purposes, please be sure to observe the manners of worship at the church and conduct yourself with respect.
The chancel (the altar and the area around it) is a holy place; please do not enter it under any circumstances.
Please refrain from entering during ceremonies such as masses, farewell services, and weddings.
Eating, drinking and smoking are prohibited in the church building.
No animals other than service dogs are allowed on church premises.
Please refrain from entering the church building under the influence of alcohol.
Please be especially quiet in the church building and on the grounds.
Do not touch any of the items in the church (Bibles, prayer books, hymnals, decorative objects, etc.)
Unauthorized ringing of church bells is strictly prohibited.
Please turn off your cell phone or put it on silent mode and refrain from using it inside the church.
Photography and video recording inside the church is prohibited.
Please take off your shoes in churches that prohibit shoes with dirt floors.
Please remove your hat in the church building.
Dress should be appropriate for a "place of prayer" and avoid extreme exposure of skin.
Due to the number of people or other circumstances, there may be restrictions or conditions on entry to the church.
In such cases, local believers and other local staff will inform you and ask you to follow their instructions.
Manners when visiting the villages
In each of the villages that comprise the "Hidden Christian Sites the Nagasaki Region," residents continue to live their daily lives.
Please be considerate of things such as trespassing on private property, cleaning up trash, noise, etc. while walking through the area.