Touching history
Visiting Churches
Kashiragashima Church(Village on Kashiragashima Island)
Shinkamigoto-cho, Minami-Matsuura-gun, Nagasaki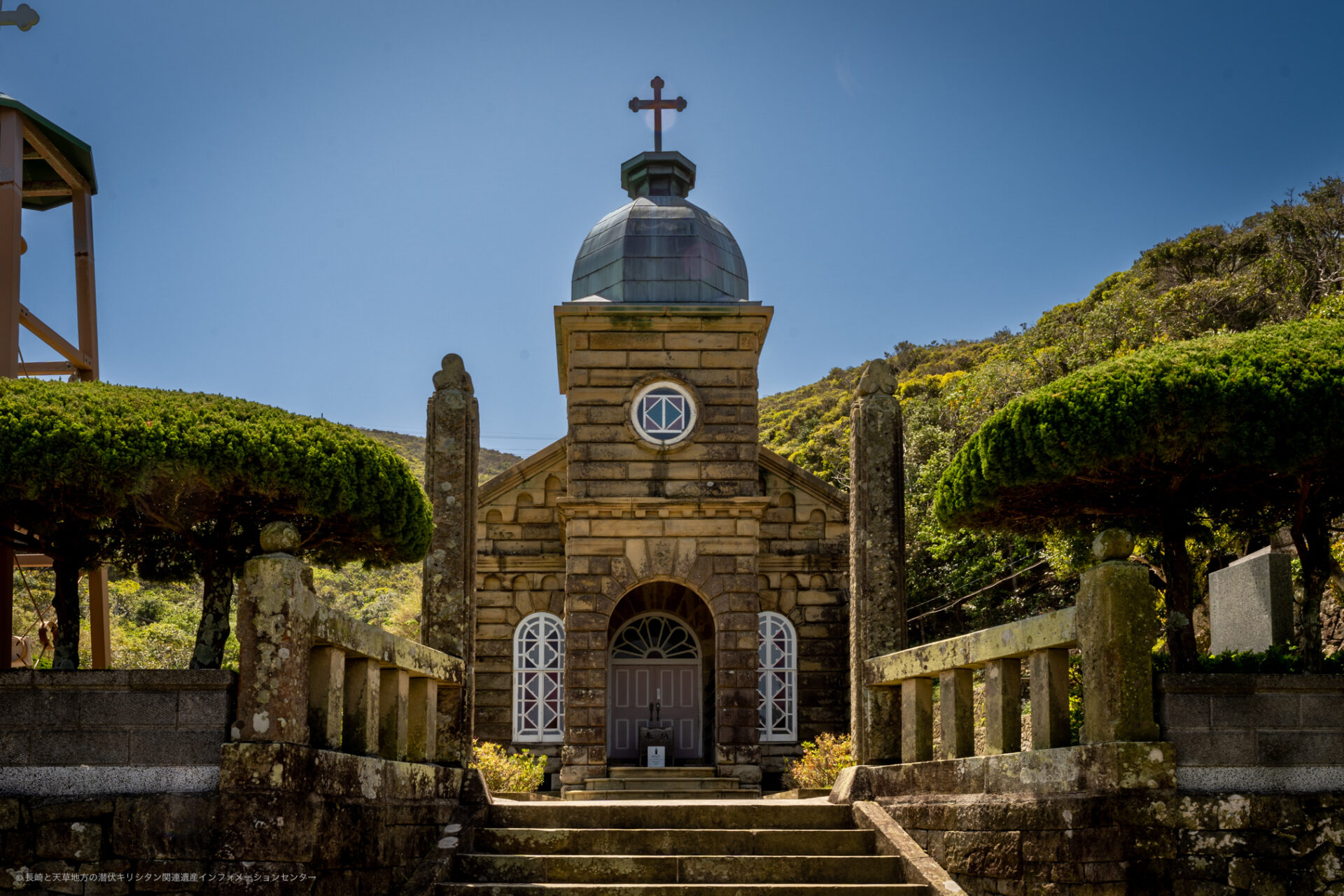 Kashiragashima Church(Villages on Kashiragashima Island)
For visitors to Kashiragashima church
The Catholic Church of Kashiragashima, located in the component property "Villages on Kashiragashima Island," was commissioned by Father Yae Osaki and designed and built by Yosuke Tetsukawa.
Construction began in 1910, completed in 1919, and consecrated by Bishop Combaz (Jean Claude Combaz:1856 – 1926) in May of the same year.
As the church of Tainoura parish, Mass and various religious events are held on a daily basis.
The adjacent "Information Center on the World Heritage Villages on Kashiragashima Island" accepts visitors and exhibits materials related to the site. (during Mass and liturgy times, they may not be allowed in the building)
Cultural assets, etc. included in the constituent assets
| | | |
| --- | --- | --- |
| Designation title as cultural assets | Designation category | Designation year |
| Stone-built Village Landscape of Sakiura in Shinkamigoto | Important Cultural Landscape selected by the national government | 2012 |
| Kashiragashima Church | Important Cultural Property designated by the national government | 2001,2003(additional designation) |
History of Christianity in the region.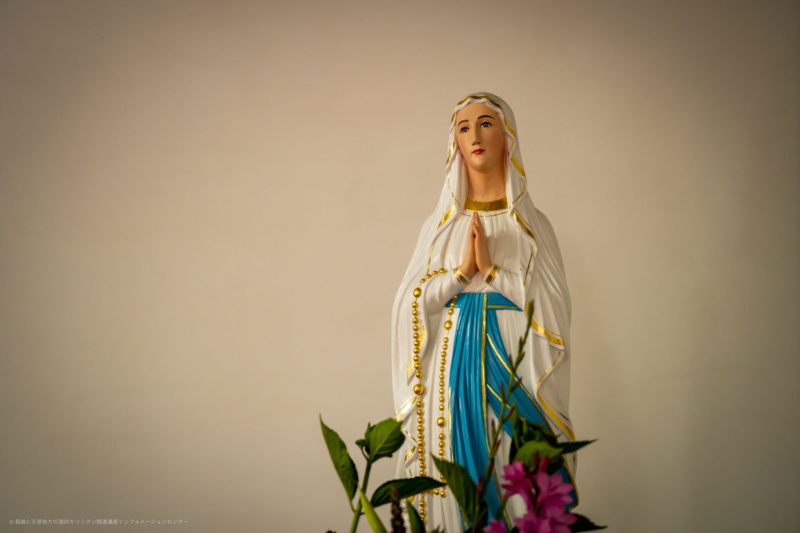 The exact date of the introduction of Christianity to Kamigoto Area on Goto Islands is not clear, but it is likely to have occurred sometime after 1566, around 1570, when the Jesuit missionary Luís de Almeida (1525?-1583) and the Japanese monk Lorenzo Ryosai (1526-1592) visited Fukuejima (Shimogoto Area on Goto Islands).
Due to the expulsion of missionaries by Toyotomi Hideyoshi in 1587 (commonly known as the "Bateren-tsuihourei") and the Tokugawa Shogunate's prohibition of Christianity in 1614, Christians were gradually persecuted in various parts of the Goto Islands, and many apostates were found.Some of them are said to have hidden and continued their faith in secret.
In 1797, an emigration agreement was concluded between the Goto and Omura clans for the development of agricultural land in the Goto Islands. This emigration led to the settlement of Christians in hiding on the Goto Islands from the Sotome region and the formation of a Christian community.
The settlement on the previously uninhabited island of Kashiragashima began in 1859, and since many of the settlers were Christians in hiding, settlements and organizations for the continuation of the faith were gradually formed.
History of Kashiragashima Church
Kashiragashima Church stands on the site of the former residence and temporary church of Domingo Mori Matsujiro, the community's Christian leader.
The temporary church, established in 1867, later became a training center for evangelists(*or catechists) and was used until the end of the suppression of Christianity in the Meiji era.
Construction of the Kashiragashima church began in 1910 and was completed in 1919 and consecrated by Bishop Combaz (Jean Claude Combaz:1856 – 1926) in May of that year.
Sandstone quarried in the Kashiragashima area was used as the building material, making this a stone church rarely seen in Japan.
The interior is a one-room space with only a nave, and the ceiling and planes are decorated with colorful flower and water chestnut patterns, creating a bright and gorgeous impression.
Surroundings and location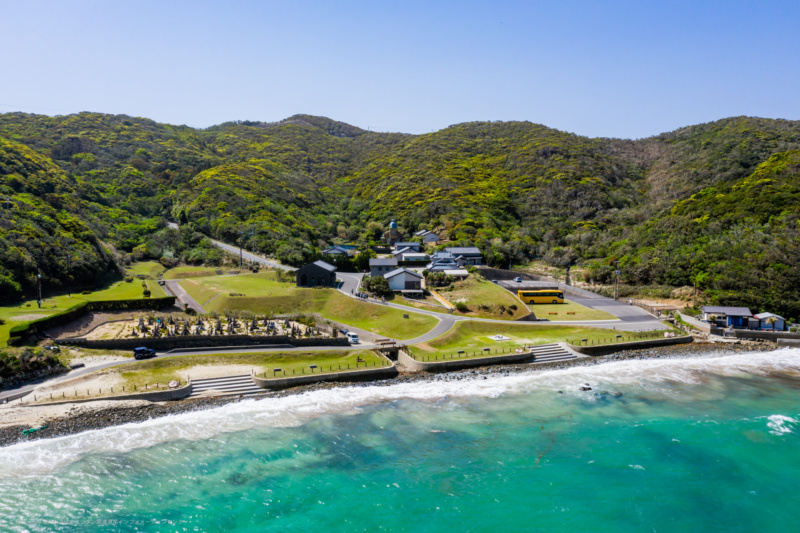 The eastern tip of Nakadorijima in the Goto Islands and the western side of Kashiragashima, a small island in the eastern part of the archipelago, have been designated as a National Important Cultural Landscape, which represents an element of the World Heritage component.
The Kashiragashima Bridge, built in 1981, connects Nakadorijima and Kashiragashima.
The northern shore of Kashiragashima is called Shirahama settlement and is surrounded by mountains and forests. The church stands on the slope of a gently sloping hill.
On the west side of the property is a stone presbytery built at the same time as the church, a stream flows on the east side, and a stretch of beach called Rokuro-setp stretches along the front to the north.
The scenery of masonry using Gotoh stone can be seen everywhere in this village.
Overview
Prior notice
Prior notice required for both individuals and groups.
Address
638 Kashiragashima, Tomozumigou, Shinkamigoto-cho, Minamimatsuura-gun, Nagasaki
Masses/religious events
2nd and 4th Sunday 9:00~10:00
(*Please click here to check the "No Visitors" date and time other than those listed above.)
Visiting Hours
9:00~17:00
Parking area
Private parking available.
Related data
Priority areas for the prevention of littering【PDF file(Approx. 200 KB)】
Traffic Access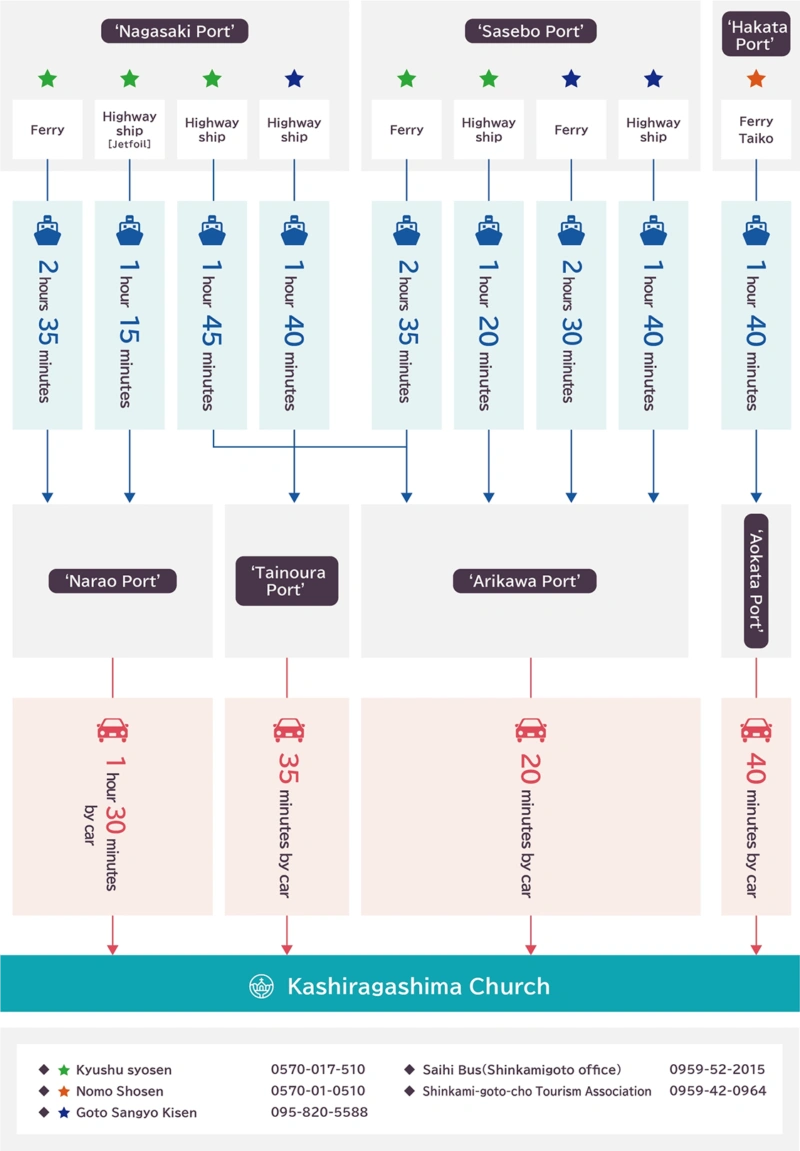 Access Map
Gallery